Aug. 26, 2022
The 3 ply face masks are ideal for use as protection from airborne pollutants or allergens. 3 ply face masks also help protect those around you from coughs, and sneezes. Each mask is made with non woven fabrics designed for comfort, including ear loops meant to eliminate pressure on the outer ear. Mask should fit most adults and children, and is suitable for use when running errands or visiting public areas such as grocery stores, pharmacies, parks, and post offices. These are not hospital or medical grade masks and are only intended for consumer use.
What Are 3 Ply Disposable Face Masks with Elastic Ear Loops?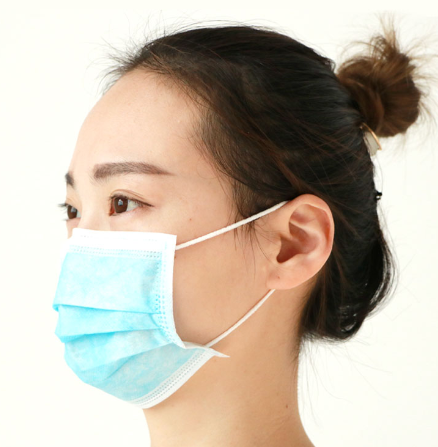 ㆍDisposable face mask - Great for daily protection from allergens, and airborne pollutants helping you breathe easier while also protecting others from your coughs and sneezes.
ㆍ3 LAYER CONSTRUCTION - These face masks are made of an outer layer of non woven fabric, a middle layer made of a filter fabric, and an inner layer made of a soft, skin gentle facial tissue. Fluid resistant, unlike cloth masks, to provide protection against large droplets or sprays of bodily fluids.
ㆍComfort fit design - Comfortable extra soft elastic ear loops with non woven skin-friendly fibers are designed to eliminate pressure to the outer ear.
ㆍOne size fits most - Disposable face mask comfortably fits most adults. The child size fits most children 4-12 years of age.
ㆍSuitable use - Ideal for use running errands or visiting public areas such as grocery stores, pharmacies, parks, post offices, and more - where social distancing measures are difficult to maintain.
How It's Made: 3-Layer Face Mask
Our disposable 3-Layer Face Masks are made following strict international standards. We use the highest-quality materials available to us and perform rigorous quality testing on both raw materials and finished face masks. Our number one priority is delivering safe and effective face masks.
ㆍMaterials.
Disposable face mask production uses a type of nonwoven fabric. Nonwoven fabrics are made out of fibers and are essentially webs of entangled fibers wound together.
Nonwoven fabrics are most often used for disposable face masks because they allow for good air permeability while still keeping harmful bacteria filtered out. The most common material used to make a disposable face mask is polypropylene.
We use the best raw materials we can get to make our disposable 3-Layer Face Masks. They feature an inner and outer layer of spun-bound polypropylene, and a middle filter layer made of melt-blown polypropylene. These materials are the industry standard for disposable 3-ply face masks, and we go to great lengths to ensure we use only the highest quality.
ㆍConstruction.
Our disposable 3-Layer Face Mask is made of, you guessed it, three layers: an outer layer exposed to the environment, a middle layer providing most filtration, and a third layer against your face. Each layer is made of high-quality polypropylene from one of the largest providers of these materials in the world. They work together to provide a balance of filtration and breathability. Click below to learn more about how this balance relates to the effectiveness of a face mask.
FAQ'S For Non-Medical 3 Ply Disposable Face Mask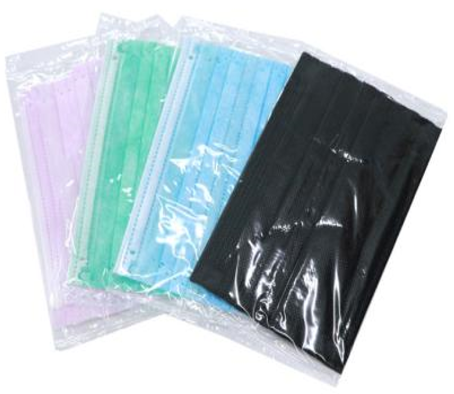 ㆍAre these masks approved for medical use?
No, these masks are not medical-grade and they are not for use by medical personnel or in a medical setting. These are non-medical disposable masks and are for personal protection only.
ㆍHave these masks been tested to ASTM standards?
No, ASTM F2100 standard is the widely-cited standard for medical face masks. That standard does not apply to non-medical face masks.
ㆍAre these masks FDA approved?
No, non-medical use face masks do not require FDA approval and all other requirements of the FD&C (Food, Drug & Cosmetics Act) do not apply.
ㆍAre these single use masks?
Yes, these are disposable masks meant for single use.
We are a disposable non woven face mask factory. If you are interested in our products, please contact us now!